TOPSHOP, LEE SKINNY JEANS AND KOPIROTI !
honhon and i was able to go to the topshop closed door sale last friday. i chose to go to their mall of asia branch, thinking that they would have a very great selection since it was the newest branch. boy, was i wrong! the good pieces seemed to be handpicked from the very start or most of the good ones were in the older branch. truth is... i really have no idea but i really felt disappointed since i rarely shop nowadays. (you see shopping for clothes is something i'm passionate about. it might seem trivial but heck it makes me uber happy!) on the other hand, the good news is, i was able to buy lee stackz skinny jeans! yeyey! their department store had one in my size! isn't great?! when things seem not to go your way, something good comes up out of the blue! i didn't intend to look for skinnies that day. it actually wasn't my priority. though i've been on the prowl for like ages. though things didn't happen the way that i planned it to be, i'm happy with the outcome. things do happen for a reason. good things happen to those who wait. and i got lucky! yey! afterwards, we stopped by at kopiroti, a comfy coffeeshop which originated in Singapore. i first got a taste of their stuff just a few months ago and it absolutely made me a fan ( i owe it to Lizzie...yay, thanks bunch!). their stuff is really a treat. i had roti french toast which comes with a a couple of half-boiled eggs in soya sauce, kaya spread and butter served with iced tea while honhon had roti kaya toast which is sliced toast with butter, kaya spread and half-boiled eggs. kaya spread is some sort of jam which is lime-ish green in color. it may seem like a simple meal but it's delightfully yummy! heavenly! i must say that day ended pretty well... =)

kopiroti's menu - a variety of good stuff...
...take your pick!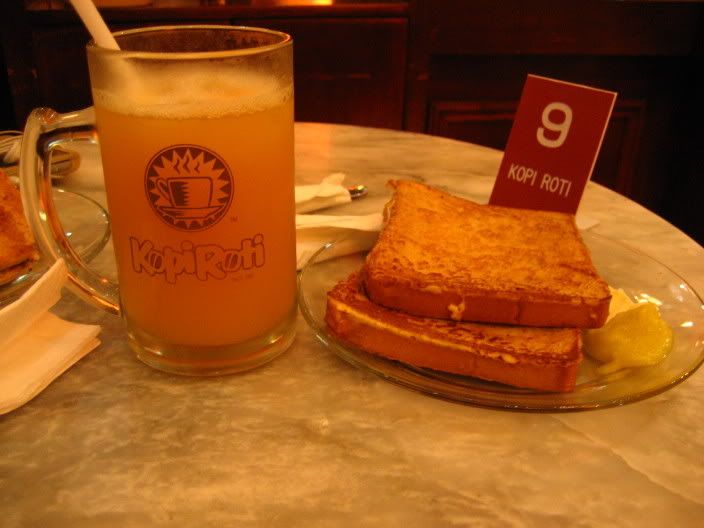 this is what i had - roti french toast with kaya spread
and butter served with iced tea minus the
soft-boiled egg which followed a
few minutes later
this is what honhon had - roti kaya toast (sliced toast)
with butter and kaya spread served with coffee
my meal with the yummy soft-boiled eggs
YUMMY!!!
a close-up of their soft-boiled eggs!
tempting!
honhon diggin' in..
p.s.
kopiroti has branches located at tomas morato, mall of asia, katipunan, and the naia airport. that's it for now. will post pics of my skinnies soon. ciao! =)