whew!
As promised I've got tons more stuff to talk about. A lot of things came about this weekend and classes have been suspended two days in a row. Thanks much to typhoon Glenda. you rock! Hahaha! Now I have some spare time to update my blog. Weeeheeee…. And I might get to cook spaghetti later as requested by Honhon. Oh, we did the grocery yesterday. Fun. Fun. Fun. It always is. We also took the car to a muffler haus to get it fixed.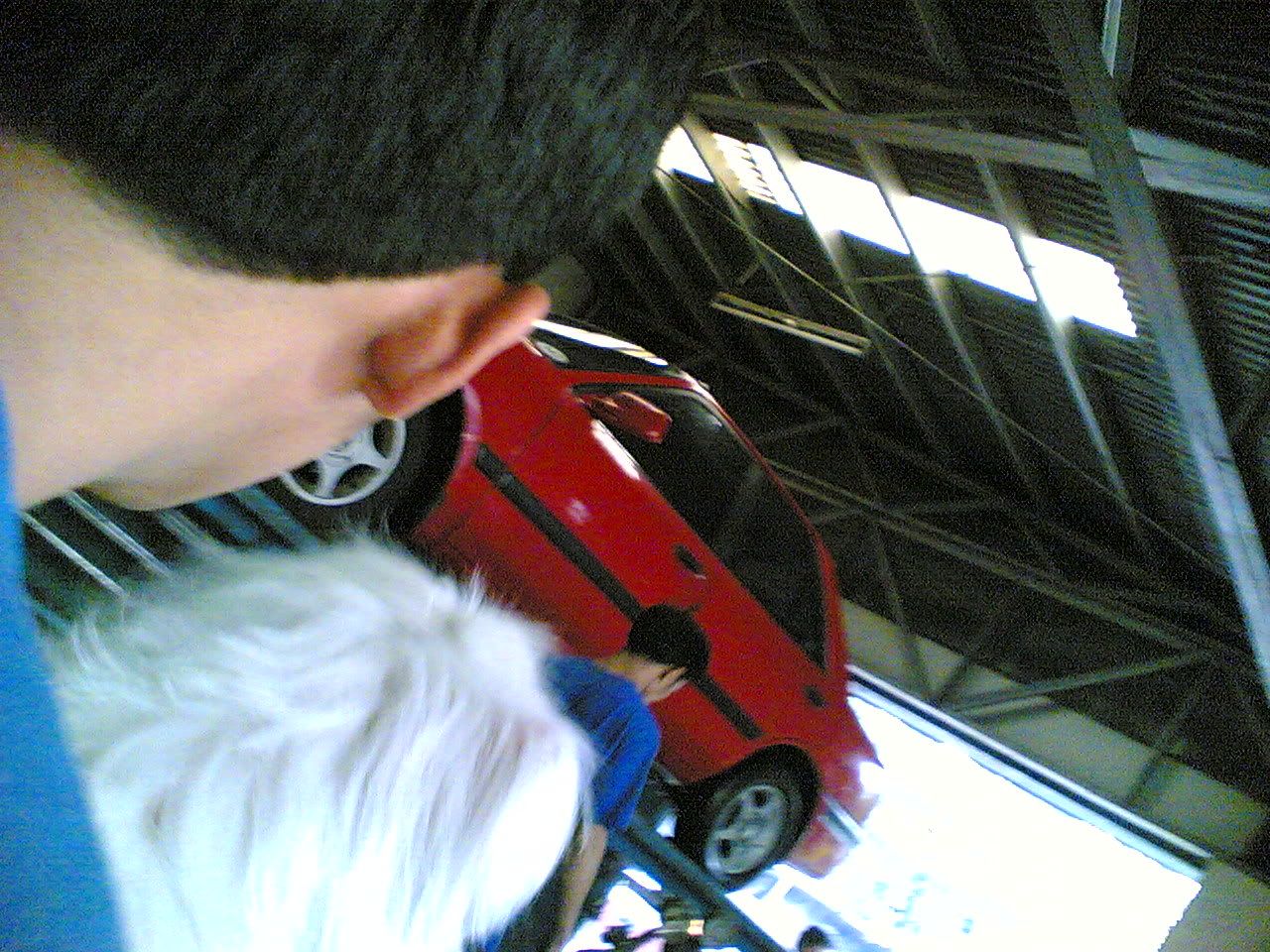 another photo in the muffler haus this time with honhon
and dusty patiently waiting to get the job done
( picture is a bit blurry, taken using my camphone)


Finally, I was able to buy a new digital camera last Saturday. Yey! I got myself a canon ixus 60 model. The cam is so sleek and compact with a very large lcd to boot. at first, i thought that my money was just enough to buy the cam itself. But I was stunned when I learned the price of the cam. It was a really a good deal. I even managed to buy a 512 mb Kinston SD card with a lifetime warranty, a camera case and the slim film for the lcd. Yey! Gawd, I'm so happy with my new baby!!! Kudos to Henry's Camera shop for giving a very reasonable price! next thing on my wishlist would be a tripod. You see my hands get shaky at times so it would be nice to have one.
my new baby....yey!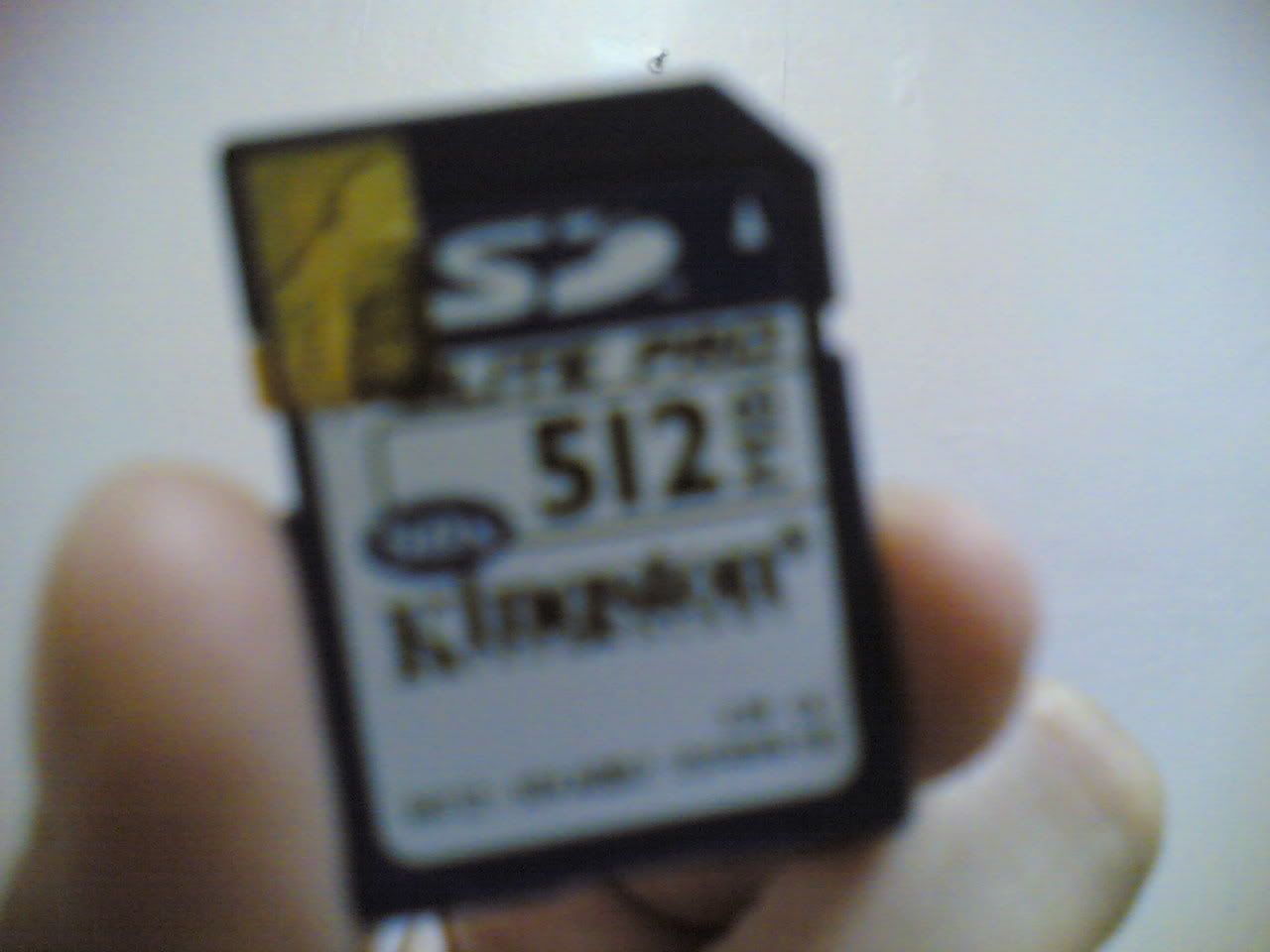 enough memory... i hope! weeheee!

Last Friday, I technically received a text message very late at night (but was able to read it the following morning) from Jen, my high school best friend, asking me to be the godmother of her new baby boy this Sunday. Of course, I accepted. Our friendship traces way back from our high school days. I used to hang out everyday after school at her house, just talking about crazy stuff. It would go from boys to music to gossip to other stuff in school. Jen is a very carefree person. Seeing her now all settled down came as a surprise but I guess she's happy. Honhon and I attended Baby Cedrick Jamir's ("Zenki" for short) baptism and here are some pictures...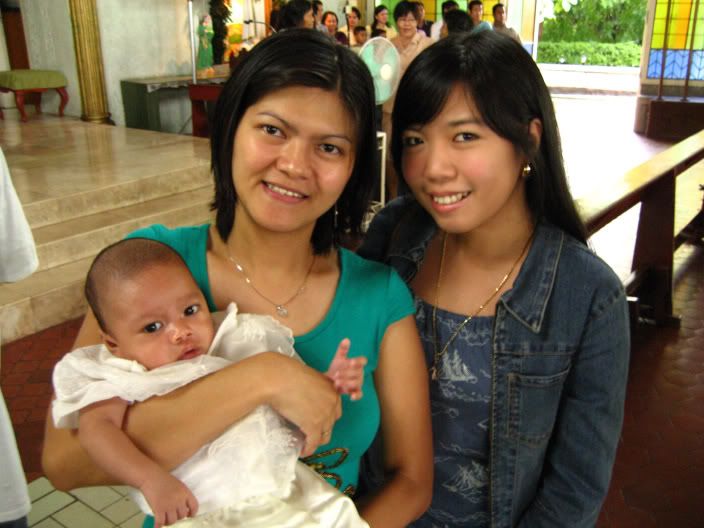 jen, baby zenki and ninang (READ: GODMOTHER) cathy

zenki's godmothers (l-r) dorothy, me and laura. MARE!

look at that little angel adoring her ninang cathy silently! haha. guess what?!
he didn't shed a single tear while i was carrying him.
very much an angel. super behave!

Life has been so full of surprises lately. i don't usually open my mail not unless I need to. yesterday, as I was going through my inbox, one of the messages caught my attention. The mail came from yahoo 360! (which I haven't opened for ages) and the subject goes: gOrGeOuSz_eLLa has sent you a message. for those people who don't have a clue who she is, ella's one of my closest friends in my entire stint as a tech support rep in convergys. Amidst all of the shift changes and the chaos in the office, I enjoyed every moment spent with this cool and ultra bubby girl. She's one of a few friends that I'd very much like to keep. The news of her leaving the country took me by surprise. Nonetheless, im happy for her and I wish her well. She fairly deserves it since she's a very good person. You go ella! You take care and have a safe trip. Please do keep in touch. I'm just an email away. Haha… luv yah! Misshu!
me and ella in happier times. wish you all the best on
your trip! you go girl!

Before I end this entry, would like to greet SAM, my nephew in Canada, a happy birthday! You go have fun kid! Lots of huggies** from aunt cathy! You take care of mommy. =)
happy birthday, SAM! here's a picture of marvin and
aunt cathy sending all our love here in the philippines!